103kw 163kw 223kw 283kw Three Charging Guns DC Fast EV Charger
Product Detail
Product Tags
103kw 163kw 223kw 283kw Three Charging Guns DC Fast EV Charger Application
CHINAEVSE™️ Multy-gun EV charger can simultaneously use GB, Type 1 EV charger or Type 2 EV charger to charge all current and next-generation vehicles, supporting the changing needs of each customer. Commonly used power is 103kW, 163kW, 223kW, and 283kW. Multy-gun EV charger is designed to be durable, reliable, modular and easy to maintain. It supports the open communication protocol OCPP, and has obtained the CE test certificate issued by the TUV SUD test laboratory, and establishes standards that comply with IEC-61851 and IEC-62196, which generally installed on the highway next to the charging station, bus station, large parking lot.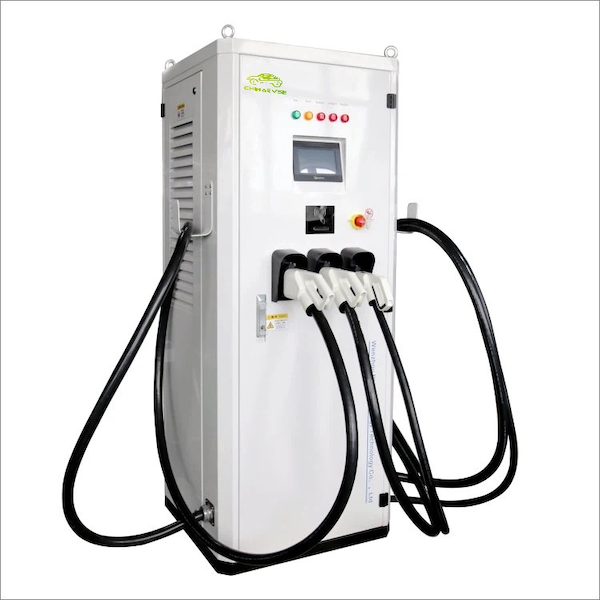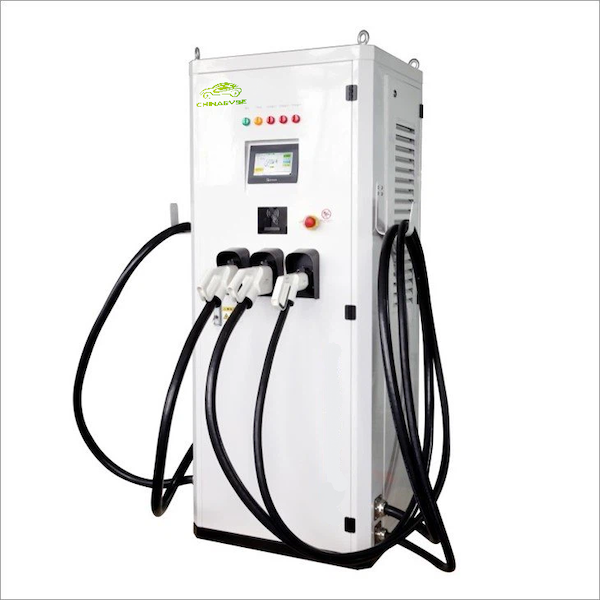 103kw 163kw 223kw 283kw Three Charging Guns DC Fast EV Charger Features
Over Voltage protection
Under Voltage protection
Over Current protection
Residual Current protection
Surge protection
Short Circuit protection
Earth fault at input and output
Input phase reversal
Emergency shut-down with alarm
Over Temperature protection
5 Years warranty time
OCPP 1.6 support
103kw 163kw 223kw 283kw Three Charging Guns DC Fast EV Charger Product Specification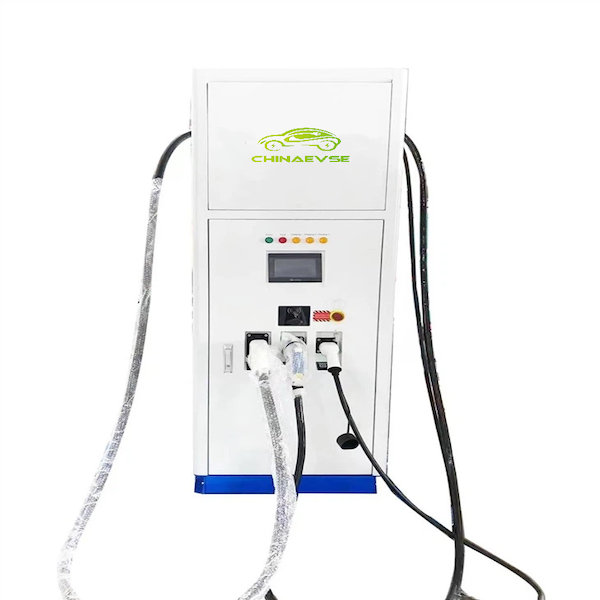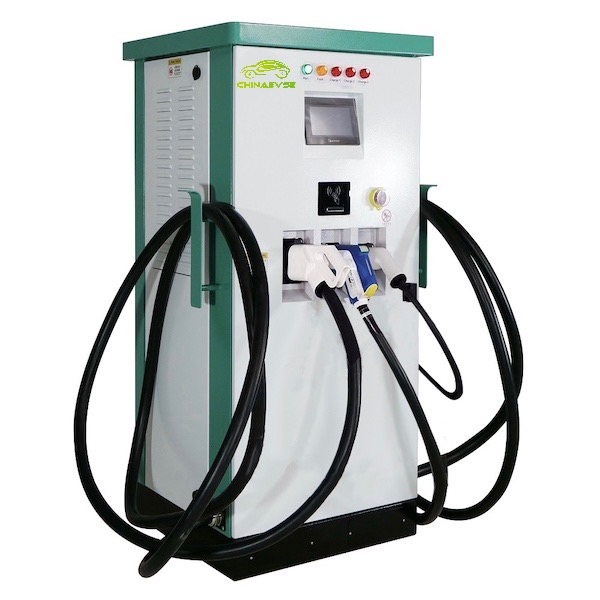 103kw 163kw 223kw 283kw Three Charging Guns DC Fast EV Charger Product Specification
Outlet Specifications

Connection standard

CCS Combo2 (IEC 61851-23)

CHAdeMO 1.2

IEC 61851-1

Connector/socket type

IEC62196-3 CCS Combo2 Mode 4

CHAdeMO Mode 4

IEC 62196-2 Type 2 Mode 3

Vehicle Safety Communication

CCS Combo2 – IEC 61851-23 over PLC

CHAdeMO – JEVS G105 over CAN

IEC 61851-1 PWM (AC Type 2)

System output voltage range

200-1000VDC

400/415VAC

Number of output interface configuration modules

30kW×3

30kW×3

43kW×1

Connector maximum output current

150A

125A

63A

Communication interface

PLC

CAN

PWM

Cable length

5m

5m

5m

Dimension (WXHXD)

750×1860×690 mm

Input Specifications

AC Supply System

Three-Phase, 5 Wire AC system (3Ph.+N+PE)

Input Voltage (AC)

3Ø, 304-485VAC

Input Frequency

50Hz±10Hz

Input Supply Failure backup
Battery backup for minimum 1 hour for the control system and billing unit. Data logs should be synchronized with CMS
during back up time, in case battery drains out

Environment Parameter

Applicable Scene

Indoor/Outdoor

Operating temperature

﹣20°C to 50°C(de-rating characteristic applies)Option:﹣20°C to 50°C

Storage Temperature

﹣40°C to 70°C

Maximum altitude

Up to 2000m

Operating humidity

≤95% non-condensing

Acoustic noise

<65dB

Maximum altitude

Up to 2000m

Cooling method

Air cooled

Protection level

IP54,IP10

Power Module

Max Output Power per Module

30kW

Max Output Current per Module

40A

Output voltage range for each module

200-1000VDC

Converter Efficiency

Maximum efficiency >95%

Power facto

Rated output load PF ≥ 0.99

Voltage regulation accuracy

≤±0.5%

Current sharing accuracy

≤±0.5%

Steady flow accuracy

≤±1%

Feature Design

Interaction Display

Full-color (7 in 800x480 TFT ) LCD display for driver interaction

Payments

Smart Card, Server based Online Payments or equivalent

Network connection

GSM / CDMA / 3G modem, 10/100 Base-T Ethernet

Communication Protocol

OCPP1.6(optional)

Visual Indicators

Error indication, Presence of input supply indication, Charge process indication and other relevant information

Push Button

Mushroom type emergency stop switch (Red)

RFID system

ISO/IEC14443A/B, ISO/IEC15693, FeliCa™ 1, NFC reader mode, LEGIC Prime & Advant

Safe Protection

Protection
Over current, under voltage, over voltage, Residual current, Surge protection, Short circuit, Earth fault at input and output, Input phase reversal, Emergency shut-down with alarm, Over temperature, Protection against electric shock
About OEM: You can send your own design and Logo. We can open new mold and logo and then send samples to confirm.
High adaptability of temperature range, has isolated heat dissipation air ducts. Power heat dispassion is separated from control circuit to ensure dust-free of control circuit.
Has multiple communication interface such as CAN、RS485/ RS232、Ethernet, 3G wireless networks, which can achieve communication among AC input unit, charging module and DC charging terminal interface, obtain electric vehicle battery system parameters and battery operation parameters during charging process.
Charging protection function, the charging process will suspend immediately when BMS communication faults, disconnection, over temperature and over voltage occur.
as the function of protocol self-recognition, can realize the charging for electric vehicles without limitation of brand.
CHINAEVSE not only selling the products, but also provding professional technical service and traning for every EV guys.
---
---
Write your message here and send it to us