Advertising Display DC EV Charger
Product Detail
Product Tags
Advertising Display DC EV Charger
CHINAEVSE™️Advertising Display  EV Chargers with its 55-inch social media display screen, customers can get a great ROI (return on investment) rate. It can be installed outdoors in a residential area, shopping mall, or public area for commercial use. It can show all videos or pictures you like. More and more clients are required for this kind of business model on the EV charging pile. The power of the AC is 3.5kW/ 7kW /11kW/22kW/43kW; DC EV charger is 30kW/40kW/60kW/80kW/100kW/120kW/160kW/180kW/200kW/240kW/360kW/400kW, Which can charge any electric vehicle that meets GBT, CCS, and CHAdeMO standards.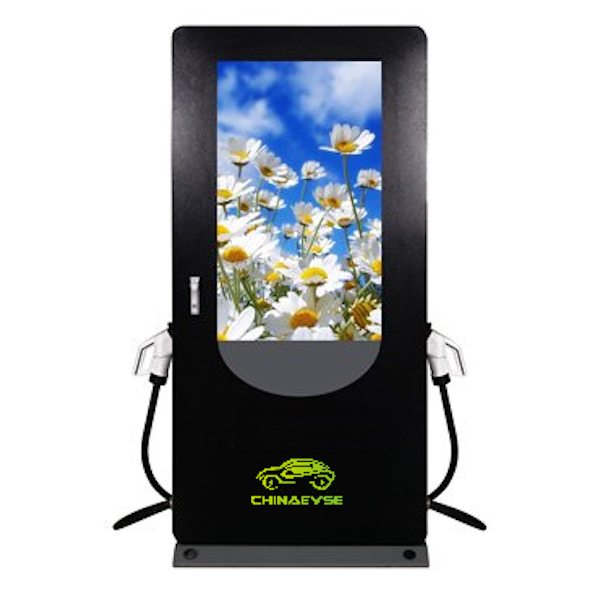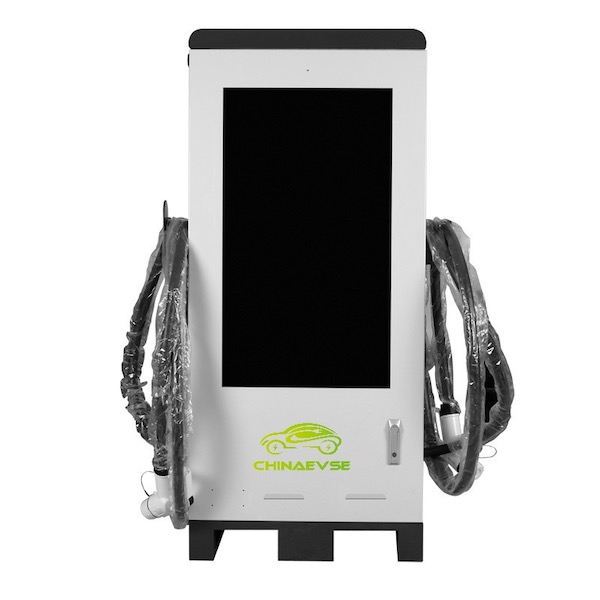 Advertising Display DC EV Charger Features
| | |
| --- | --- |
| High brightness high resolution | With a high definition of 1920*1080 and high brightness of 350cd/m², even if the screen is under the sun, it is easily readable when exposed outdoors. |
| Multiple outputs | CHINAEVSE™️DC Charging Station with Advertisement Display can be configured with double outputs, which means it could load two electric vehicles at the same time. For connectors, CCS combo 2, CCS combo 1, GB/T, chademo are all available to choose from. |
| Cable winder | There is also a cable winder for you to choose from, which is more convenient for storage cables, thus simplifying the appearance of the DC EV Charging station, enabling it to look smarter and more compact. |
| Credit card payment system | If you would like a credit card payment method, you could find a POS machine/card reader at your local, and provide API documents to us, finally, send the POS machine to our factory, our engineers need to analyze API documents to interface it with our pile, we will integrate it to our EV Charging pile. |
Advertising Display DC EV Charger Version Comparison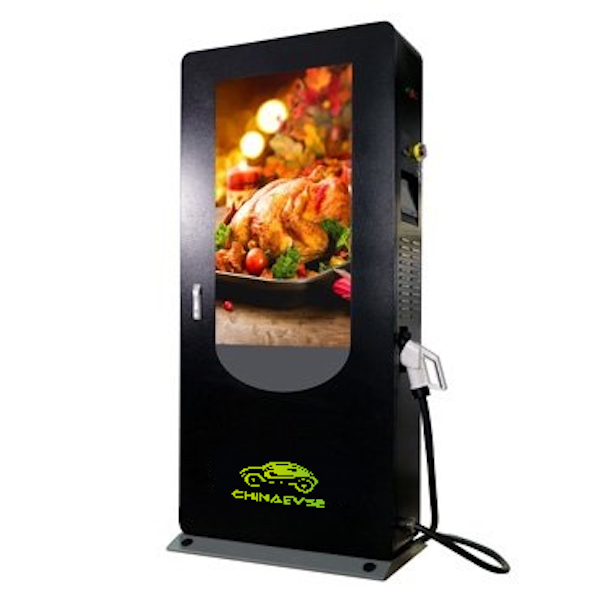 22KW 32A Single Charging Gun Vertical AC EV Charger Product Specification
 Version Comparison

Parameters

Standalone version

Network version

Interface

USB audio output, HDMI input

USB, TF, audio output, HDMI input, LAN port

Control method

Through the U disk, (put the content on the U disk, and then insert it into the advertising machine to automatically play in a loop)

Connect to the advertising machine through a computer with a network cable (optional wifi hotspot), and then manage it directly from the computer

Main parameters

Use the remote control tool to play video pictures

Remote control and more formats, rich content

Support format

Supported formats Video: Avi, Mp4, MOV, Mkv Picture: jpg BMP, png,
Mode: RGB subtitle: txt Resolution: Landscape: 1920*1080
Vertical screen: 1080*1920

Support picture, video, text, flash, web weather forecast, ppt, word, excel,

Parameters

Configuration

Android version

Operation version

Android7.1

CPU

3288

Running memory

2GB

Storage space

8GB

Network

Ethernet、WIFI

Host interface

USB*2 SD*1 LAN*1

A variety of split-screen playback modes, which can play multiple programs at the same time, can play in a loop, switch seamlessly, and mix pictures and videos;
One-button split screen, one-button remote control switch, different areas play different content, one screen is multi-purpose, supports simultaneous playback of pictures and videos;
U-play playback, plug, and play insert the U-disk to automatically recognize the U-disk content for playback, support a variety of video, picture, and music formats;
You can set the time and date, weather, rolling subtitles, rolling subtitles can set the company name, and other content you want;
It can be switched on and off regularly, displayed in time-sharing, and the time period can be automatically switched on and off to reduce expenses and save resources:
The online version can be released remotely, the advertising machine needs to be connected to the network, and can be released through the computer login terminal;
The touch version can choose Android7.1/Windows configuration, and install apps, videos, pictures, electronic whiteboards, etc.
The ultra-thin frame design makes the machine more fashionable and beautiful:
The default choice is a silver frame, black machine, if you need other colors, you can contact customer service for customization;
Support customization.
---
---
Write your message here and send it to us