160kw Single Charging Gun DC Fast EV Charger
Product Detail
Product Tags
160kw Single Charging Gun DC Fast EV Charger Application
160kw Single Charging Gun DC Fast EV Charger mainly applicable to urban special charging stations (buses, taxis, official vehicles, sanitation vehicles, logistics vehicles, etc.), urban public charging stations (private cars, commuter cars, buses), intercity expressway charging stations, etc. that require DC fast In the case of charging, it is especially suitable for rapid deployment in the case of limited space.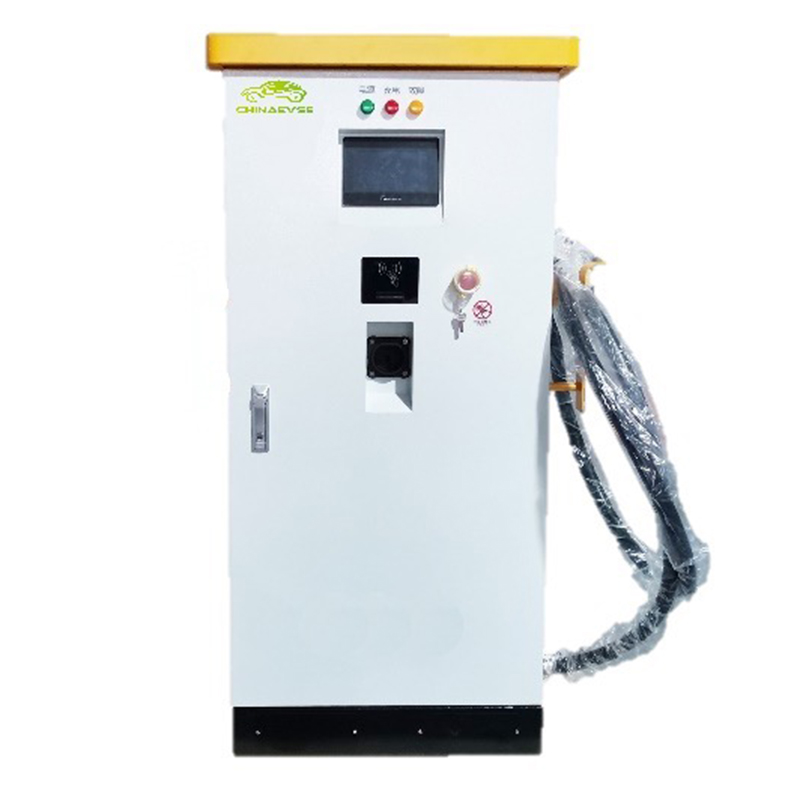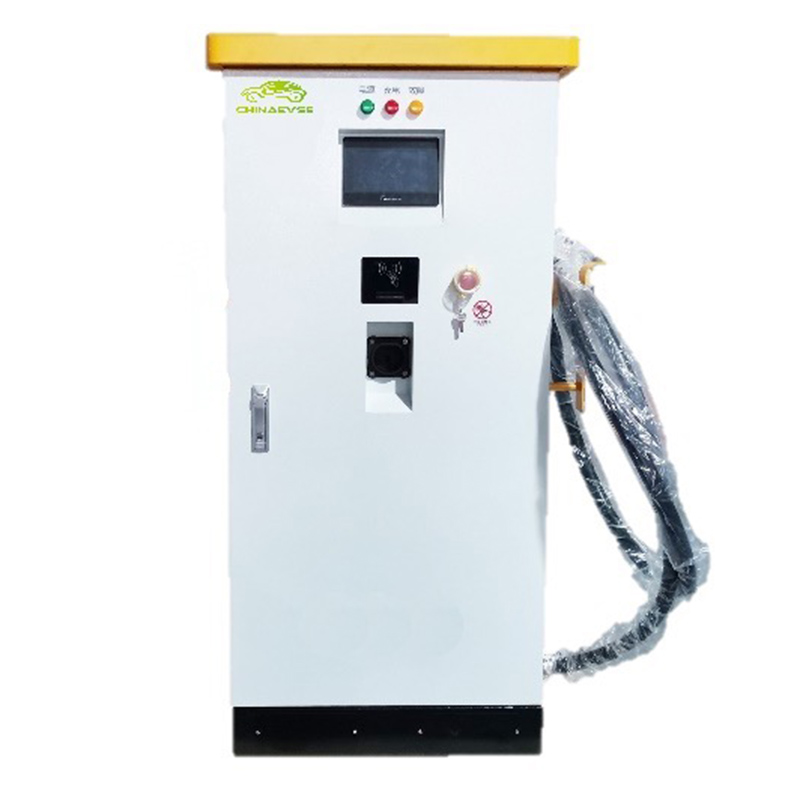 160kw Single Charging Gun DC Fast EV Charger Features
Over Voltage protection
Under Voltage protection
Surge protection
Short Circuit protection
Over Temperature protection
Waterproof IP65 or IP67 protection
Type A Leakage protection
5 Years warranty time
OCPP 1.6 support
160kw Single Charging Gun DC Fast EV Charger Product Specification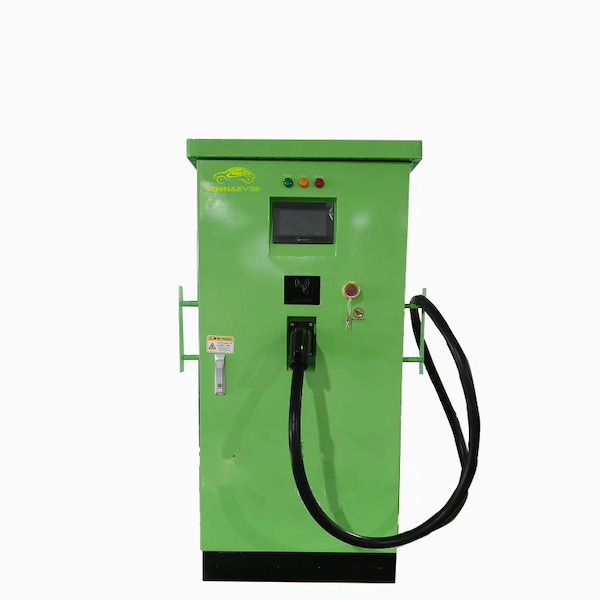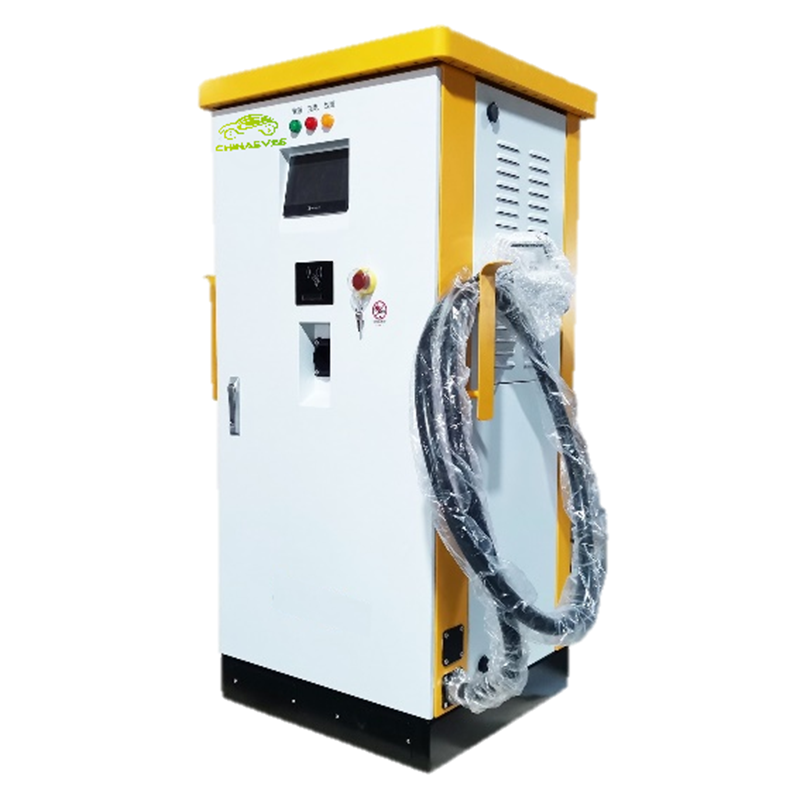 160kw Single Charging Gun DC Fast EV Charger Product Specification
Electric Parameter

Input Voltage (AC)

400Vac±10%

Input Frequency

50/60Hz

Output voltage

200-750VDC

200-1000VDC

Constant power output range

400-750VDC

300-1000VDC

Rated power

120 KW

160 KW

Max output current of single gun

200A/GB 250A

200A/GB 250A

Max output current of dual guns

150 A

200A/GB 250A

Environment Parameter

Applicable Scene

Indoor/Outdoor

Operating temperature

﹣35°C to 60°C

Storage Temperature

﹣40°C to 70°C

Maximum altitude

Up to 2000m

Operating humidity

≤95% non-condensing

Acoustic noise

<65dB

Maximum altitude

Up to 2000m

Cooling method

Air cooled

Protection level

IP54,IP10

Feature Design

LCD Display

7 inch screen

Network method

LAN/WIFI/4G(optional)

Communication Protocol

OCPP1.6(optional)

Indicator lights

LED lights(power,charging and fault)

Buttons and Switch

English(optional)

RCD Type

Type A

Start method

RFID/Password/plug and charge (optional)

Safe Protection

Protection
Over Voltage, Under Voltage, Short Circuit, Overload, Earth, Leakage, Surge,Over-temp, Lightning

Structure Appearance

Output type

CCS 1,CCS 2,CHAdeMO,GB/T (optional)

Number of Outputs

1/2/3(optional)

Wiring method

Bottom line in, bottom line out

Wire Length

3.5 to 7m (optional)

Installation method

Floor-mounted

Weight

About 300KG

Dimension (WXHXD)

1020*720*1600mm/800*550*2100mm
CHINAEVSE are leading DC EV Fast Charger Manufacturer
Commonly used power is 60kW / 120kW / 160kW / 200kW /240kW, and you can choose a single connector or double connector. DC/AC fast charge and slow charge hybrid charging modes can also be customized.
If you want to get more information about the DC Chademo charger, please contact our sales manager, we have a professional team that can provide you with more solutions
DC Chademo EV charger advantage:
1. Support GBT, CCS, and CHAdeMO charging output at the same time (optional)
2. Reliable and powerful modular hardware
3. The installation is simple, fast, and easy
4. Daylight-readable touchscreen display
5. Support open communication protocol OCPP
6. RFID authorization
7. Low operating noise
OCPP 1.6 communication protocol supported.
Wide range of DC output voltage, high suitability of utility grid, three phase three wire input without null line in the rectifier unit.
Emergency protection and alarming function, including over voltage, under voltage, over current, over temperature, phase missing, output short-circuit, leakage protection and so on.
Has insulation monitoring function, automatically turns off the output to ensure safe charging when insulation level is low.
CHINAEVSE not only selling the products, but also provding professional technical service and traning for every EV guys.
We offer the best service as we have. Experienced sales team are already to work for you.
---
---
Write your message here and send it to us