3.5KW 16A Type 2 to Type 2 Spiral Charging Cable
Product Detail
Product Tags
3.5KW 16A Type 2 to Type 2 Spiral Charging Cable Application
CHINAEVSE EV charging cables are manufactured in a rigorous process for reliable quality, comply with EU RoHs and are CE and TUV certified. The material is TPU, which controls the outer diameter and keeps the cable soft when bent, and is also resistant to abrasion, oil, ozone, ageing, radiation and low temperatures, ensuring that the product can be used in a variety of environments and has excellent universality.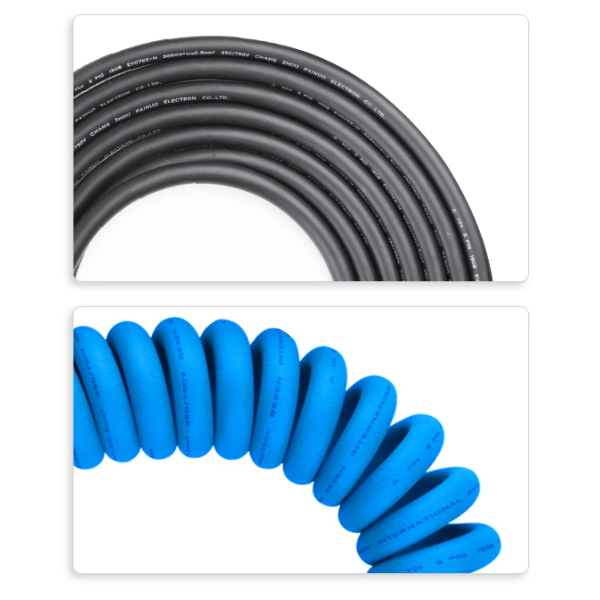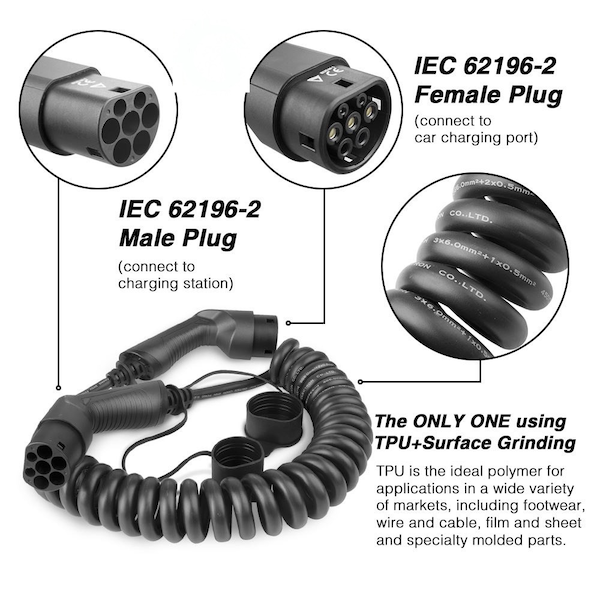 3.5KW 16A Type 2 to Type 2 Spiral Charging Cable Features
Waterproof Protection IP67
Insert it easily fixed
Quality & certificated
Mechanical life > 20000 times
Spiral Memory cable
OEM available
Competitive prices
Leading manufacturer
5 Years warranty time
3.5KW 16A Type 2 to Type 2 Spiral Charging Cable Product Specification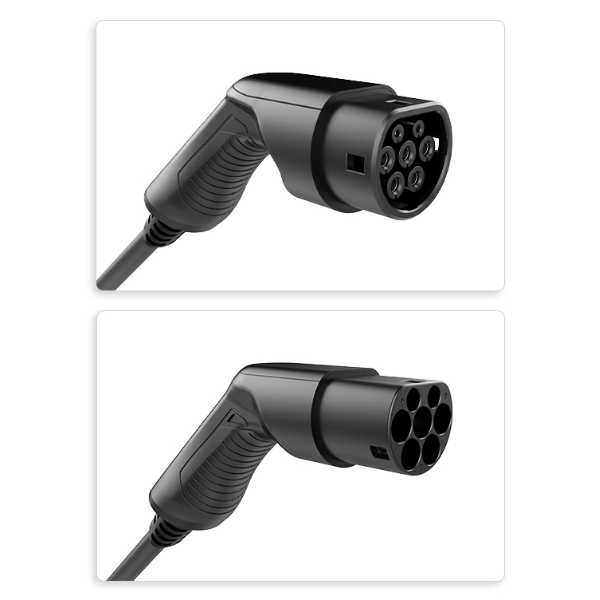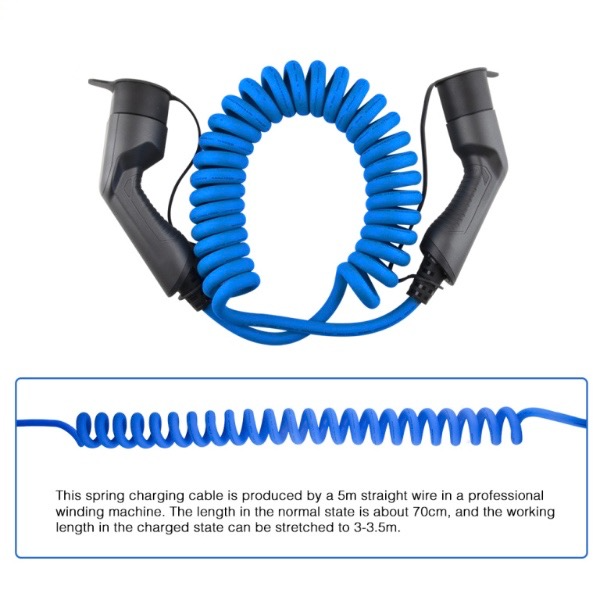 3.5KW 16A Type 2 to Type 1 Charging Cable Product Specification
| | |
| --- | --- |
| Rated voltage | 250VAC |
| Rated current | 16A |
| Insulation resistance | >500MΩ |
| Terminal temperature rise | <50K |
| Withstand voltage | 2500V |
| Contact impedance | 0.5m Ω Max |
| Mechanical life | > 20000 times |
| Waterproof Protection | IP67 |
| Maximum altitude | <2000m |
| Environment temperature | ﹣40℃ ~ +75℃ |
| Relative humidity | 0-95% non-condensing |
| Standby power consumption | <8W |
| Shell Material | Thermo Plastic UL94 V0 |
| Contact Pin | Copper alloy, silver or nickel plating |
| Sealing gasket | rubber or silicon rubber |
| Cable Sheath | TPU/TPE |
| Cable Size | 3*2.5mm²+1*0.5mm² |
| Cable Length |  5m or customize |
| Certificate | TUV UL CE FCC ROHS IK10 CCC |
Never use a damaged product, vehicle inlet, or infrastructure socket outlet for charging.
Always check the cable and the contacts for damage and contamination before using them.
Never use contacts that are dirty or damp.
Only connect the cable to vehicle inlets and infrastructure socket outlets that are protected against water, moisture and liquids.
The charging process is finished when you actuate the locking lever of the vehicle connector. You can then disconnect the vehicle connector and the infrastructure plug. Never use force to disconnect them. Dangerous electric cars could result in serious injury or death. Depending on the charging station and electric vehicle, the shutting down of the charging process and the duration of unlocking may vary.
There are electric vehicles that can be started with the cable connected. Always make sure to disconnect it before driving away.
In the unlikely event of smoke or melting, never touch the product. If possible, stop the charging process. Press the emergency stop switch on the charging station in any case.
Make sure that the cable is out of reach of children. Only person's with a valid driver's license for motor vehicles can use it.
---
---
Write your message here and send it to us